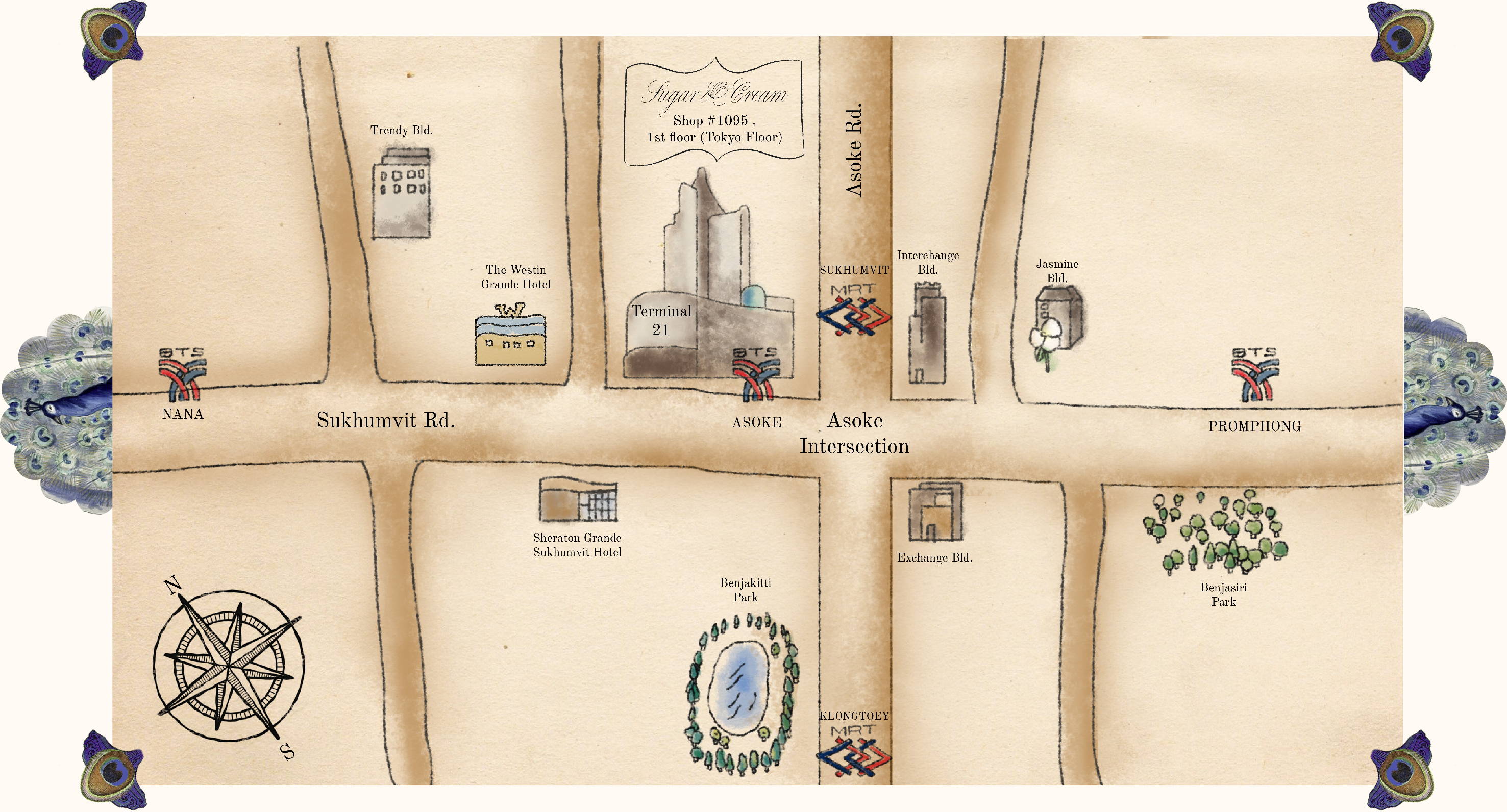 Please visit our shop on the first floor of Terminal 21, Shop No. 1095 Bangkok, Thailand!

Open everyday from 10:00 – 22:00
Call or WhatsApp : +66 (0)63 6464249,+66 (0)81 763 5898
Line ID: sugarcreamvintage / Email: sugarcreamvintage@gmail.com
All Sugar & Cream items are real Vintage pieces that may have been previously worn and may show some wear. We do our best to describe our garments as clearly and accurately as possible. All items have been measured carefully.
We provide measurements and details of any flaws and categorize each garment based on our Vintage Category Chart. Tag sizes are shown wherepossible. These are to be used as a guide only and will vary based on the garment's country of origin. Where possible we have indicated the country of origin as a further guide only.
We try our best to photograph our products to show them in their most real color.
We strongly recommended to check the measurements carefully before purchasing and please feel free to contact us atsugarcreamvintage@gmail.com, or send us a message via this website if you have any questions about the sizing, fit or color of our products.
However, we are happy to let you know that our vintage clothing can be returned and exchanged as we are aware that our products are one of a kind and trying our clothes is very important to some of you.
Your e–mail should include:
1. Your Name (that you placed the order with)
2. Your Order Number
3. The reason for returning or exchanging.
As much details as you can provide is really helpful for us!
*Please contact your closest local DHL branch in order to return your item.
Sugar & Cream Vintage uses DHL EXPRESS WORLDWIDE,it's a door to door service and it takes 1-7 days depending on some areas.
The shipping charges up to 2 kg., so the more you purchase the cheaper shipping cost will be. Please check your parcel here.
If your preferred shipping destination is not listed, please contact us so we can arrange special delivery if available. If you have any suggestions or comments, please feel free to contact us at sugarcreamvintage@gmail.com, or Send Us a Message via this website.
We love adding new stores to the Sugar & Cream Vintage family.
If you are interested in becoming a Sugar & Cream Vintage retailer, please don't be shy!
We would also love a phone call or email with any questions.
Call or WhatsApp:+66 (0)63 6464249 (Tarn)+66 (0)81 763 5898 (Tern)
Email:Sugarcreamvintage@gmail.com